Copyright 2016 QZ Electronics LLC
Qik-Zepp antennas are light weight End Fed mono-band half wave wire antennas featuring portability and ease of deployment. Rated at 100W they are great for Back-packing or Emergency deployment. A simple and unique slide tuning system allows fine tuning once the antenna is trimmed to resonance. Though light weight, they are of robust construction with a very flexible, yet strong, stranded copper coated steel radiator covered in a UV resistant Black Polyethylene jacket. All fasteners are either Stainless Steel or Nickel Plated Brass for superior weather resistance.
Deploying this tool free design antenna is made simple by a Silver/Gold/Teflon SO-239 coax connector on one end and a self locking High Voltage Insulator on the other. Being an End Fed Zepp antenna no counterpoise nor grounding is necessary. Mounting flexibility allows many typical layouts such as vertical, horizontal, sloping or "L". An included innovative drip blocking accessory called a Drip Dam prevents water droplets from running down the radiator to the operating position.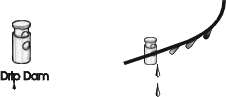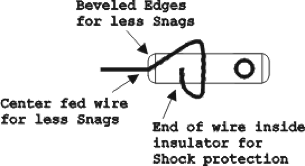 End Fed Qik-Zepp Antennas